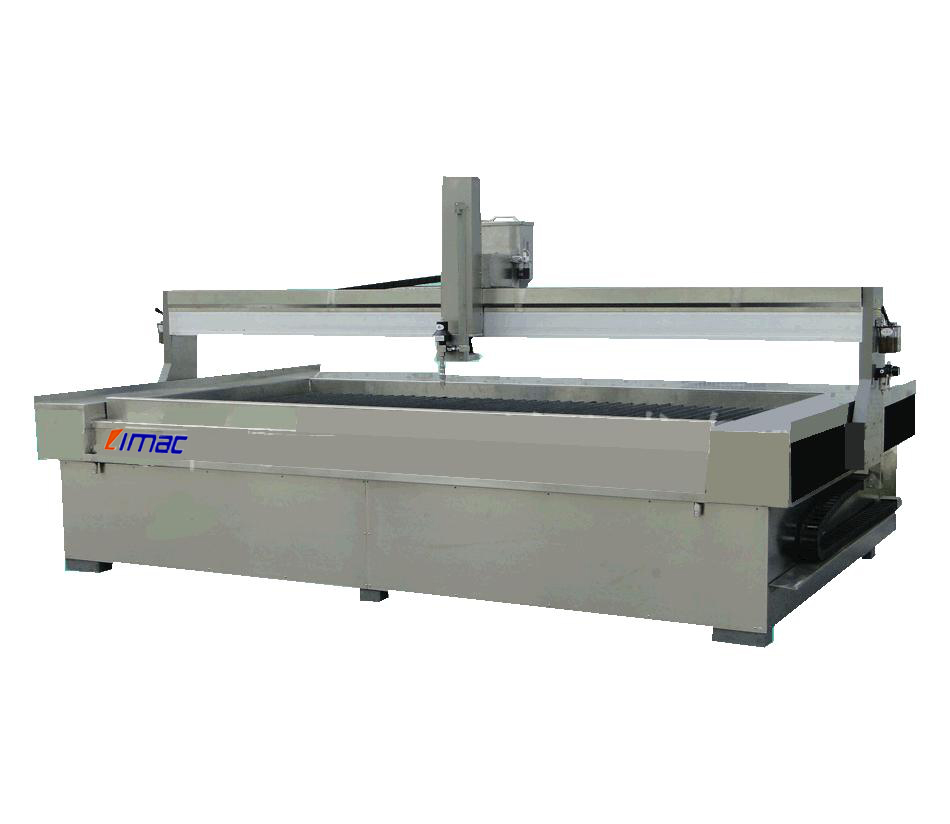 LIMAC RW Series waterjet cutting machine
LIMAC waterjet cutting machine is made of industrial-quality steel by welding. With case structure, the machine encompasses high-loading capacity. Welding stress is eliminated by professional equipment; machine body is precisely machined, which produces a rigid frame; imported linear guide rail ensures high precision.
Beam is made of extrusion of aluminum alloy. Light weight with high rigidity ensures smooth running.
Special protection cover ensures effective waterproof.
Advanced sand control.
Working platform with high loading capacity.
Table surface is adjustable with nuts.
Imported Servo motors ensure high accuracy and smooth move.
Stand-alone controller.
Over-travel limit protection.
Imported ball screw.
Imported linear guide rail system.
LIMAC waterjet cutting machine Specifications
| | | | |
| --- | --- | --- | --- |
| MODEL | X-axis travel | Y-axis travel | Z-axis travel |
| RW1101 | 500mm (20'')(4'* 4') | 500mm(20'')(4'* 8') | 150-200mm(6''-7.9'') |
| RW1102 | 1000mm(40'') | 1000mm(40'') | 150-200mm(6''-7.9'') |
| RW1103 | 1000mm(40'') | 1200mm(47'') | 150-200mm(6''-7.9'') |
| RW1104 | 1300mm(51'') | 1300mm(51'') | 150-200mm(6''-7.9'') |
| RW1105 | 1500mm(59'') | 2000mm(80'') | 150-200mm(6''-7.9'') |
| RW1106 | 1500mm(59'') | 2500mm(98'') | 150-200mm(6''-7.9'') |
| RW1206 | 2000mm(79'') | 2500mm(98'') | 150-200mm(6''-7.9'') |
| RW1107 | 1500mm(59'') | 3000mm(118'') | 150-200mm(6''-7.9'') |
| RW1108 | 1800mm(71'') | 3000mm(118'') | 150-200mm(6''-7.9'') |
| RW1109 | 1500mm(59'') | 4000mm(157'') | 150-200mm(6''-7.9'') |
| RW1110 | 1800mm(59'') | 4000mm(157'') | 150-200mm(6''-7.9'') |
| RW1209 | 2000mm(79'') | 4000mm(157'') | 150-200mm(6''-7.9'') |
| RW1309 | 2500mm(98'') | 4000mm(157'') | 150-200mm(6''-7.9'') |
| RW1210 | 2000mm(79'') | 5000mm(197'') | 150-200mm(6''-7.9'') |
| RW1211 | 2000mm(79'') | 6000mm(236'') | 150-200mm(6''-7.9'') |
| RW1212 | 2000mm(79'') | 8000mm(315'') | 150-200mm(6''-7.9'') |
| RW1213 | 2000mm(79'') | 12000mm(472'') | 150-200mm(6''-7.9'') |
| RW1310 | 3000mm(118'') | 5000mm(197'') | 150-200mm(6''-7.9'') |
| RW1311 | 3000mm(118'') | 6000mm(236'') | 150-200mm(6''-7.9'') |
| RW1312 | 3000mm(118'') | 8000mm(315'') | 150-200mm(6''-7.9'') |
| RW1313 | 3000mm(118'') | 12000mm(472'') | 150-200mm(6''-7.9'') |
(Bigger sizes are available.)
Technical parameters
| | |
| --- | --- |
| Power supply | 220v/380v/415v, 50/60hz |
| X-axis maximum traverse speed | 6000mm/min (20'/min) |
| Y-axis maximum traverse speed | 6000mm/min (20'/min) |
| Z-axis maximum traverse speed | 1000mm/min(3'/min) |
| Control accuracy | +/-0.02mm(0.001'') |
| Drive system | Imported AC servo system |
Options
Automatic sand supply tank